For Immediate Release
April 24, 2023
Football Ontario Announces U16 Team Ontario Tackle Top 90
Football Ontario Announces U16 Team Ontario Top 90 Roster
Hamilton, Ontario – Football Ontario has officially unveiled the U16 Male Team Ontario Top 90 who have been selected and invited to attend RedBlack Weekend, the weekend of May 6 and 7.
The event will be held at Western University in London, ON for a second consecutive year and will be hosted by the Western Mustangs football program and local community partners the London JR Mustangs, the London Beefeaters and the Forest City Thunderbirds.
RedBlack Weekend is one of the largest football events across the province with coaches from the OUA, CJFL, and U Sports all in attendance.
Ticket sales for the event are now officially live. Tickets will be sold on a first come first served basis: PURCHASE HERE
See below for the full Top 90 Invited to Red Black Weekend: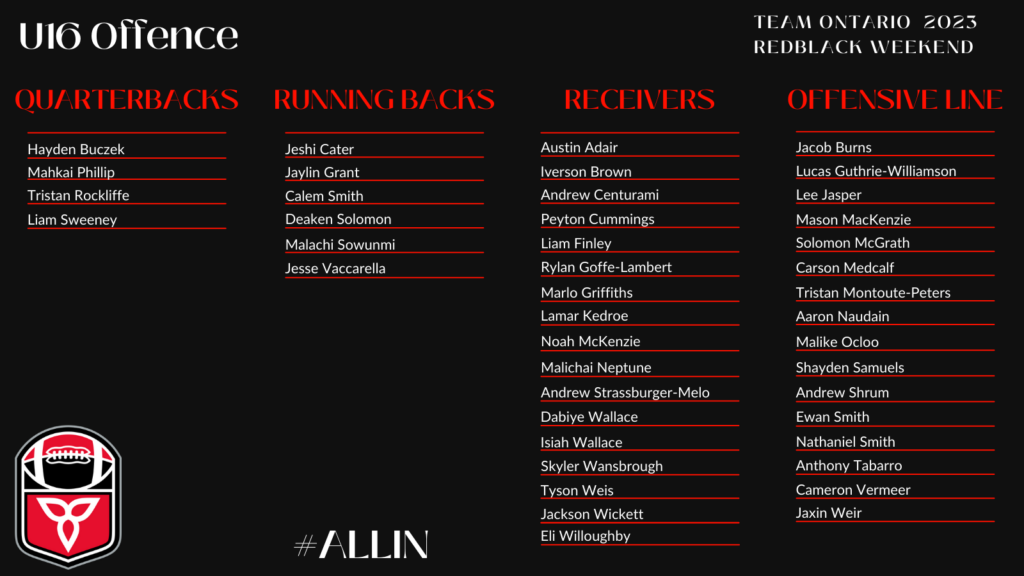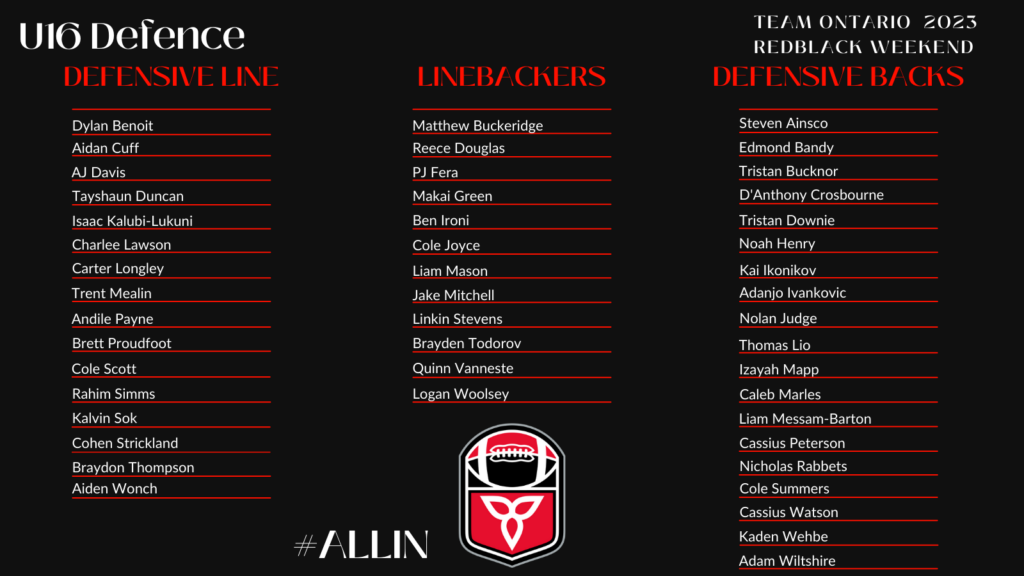 The organization would like to thank all of the athletes, volunteers, coaches, and other key stakeholders who have assisted throughout the process so far.
Football Ontario is thrilled to have the opportunity to host RedBlack Weekend at Western University alongside the organization's community partners for a consecutive season after a great experience at the 2022 event.
"Congratulations to all of our U16 student-athletes who were invited to join us for the Top 90 RedBlack Weekend. Thank you to our U16 Head Coach, Kamau Peterson, our Team Ontario coaches and support staff for being great teammates throughout the process.. A special thank you to all of our Team Ontario families who have great supporters this year" says JT Tsui, Director of Sport with Football Ontario.
The U16 Game will be held at Western University on May 7, with the official kick-off time still to be determined. Make sure you purchase tickets before it is too late. All tickets are valid for the entire day with the option to watch the U14, U16, and U18 games. PURCHASE TICKETS HERE
The game itself will be filmed and streamed live on the Official Football Ontario YouTube Channel.
RedBlack Weekend is the final process of the evaluation and selection process for the Team Ontario Male Tackle program. Following the event, the Team Ontario coaches will make their final decisions and the Football Ontario U16 Tackle Top 40 will be selected to take part in the Eastern Challenge in Sackville, NB.
2023 Eastern Challenge Schedule
IF YOU SEE YOUR NAME ON THE 2023 U16 REDBLACK ROSTER AND HAVE NOT RECEIVED YOUR INVITE PLEASE CONTACT tmcnicholl@footballontario.net
FOR MORE INFORMATION:
ABOUT FOOTBALL ONTARIO: Football Ontario is the sanctioned provincial governing body for football in Ontario, through its focus on transparency, growth, alignment and excellence, is engaged in providing football opportunities for all of Ontario. Football Ontario is driven by a commitment to deliver football programming, opportunities and resources for its members and the provincial football stakeholders. Please visit: footballontario.net