Football Ontario Futures is the open identification process for Ontario football players ages 12-18. The goal is to create a streamlined identification process for all athletes ages 12-18 to be evaluated that is inclusive to everybody.
Football Ontario wishes to create an entry point for player to develop into our high-performance pathways, measure specific metrics, and grant the players exposure and promotion to help further their football careers.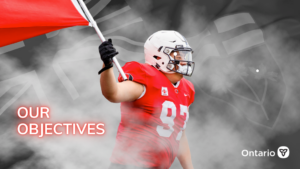 For The Program
Large Participation, Low Costs, & Execution of of the LTAD Model
For The Players
Entry point to develop them as high-performance bound players, measure metrics and give the player exposure and promotion
For Recruitment 
A smooth and simple process that allows players to be tracked and ranked easily
For The Coaches
Opportunity for community coaches to gain exposure to High Performance
DEVELOPING FUTURE ATHLETES – SIX MAIN FACTORS
Prioritizing Athlete Safety
Standardizattion and Recruitment
Creating Accessible Online Interactive Content
Introduction to High Performance for U14 Athletes
Off Season Training and Development
Tracking of Individual Performance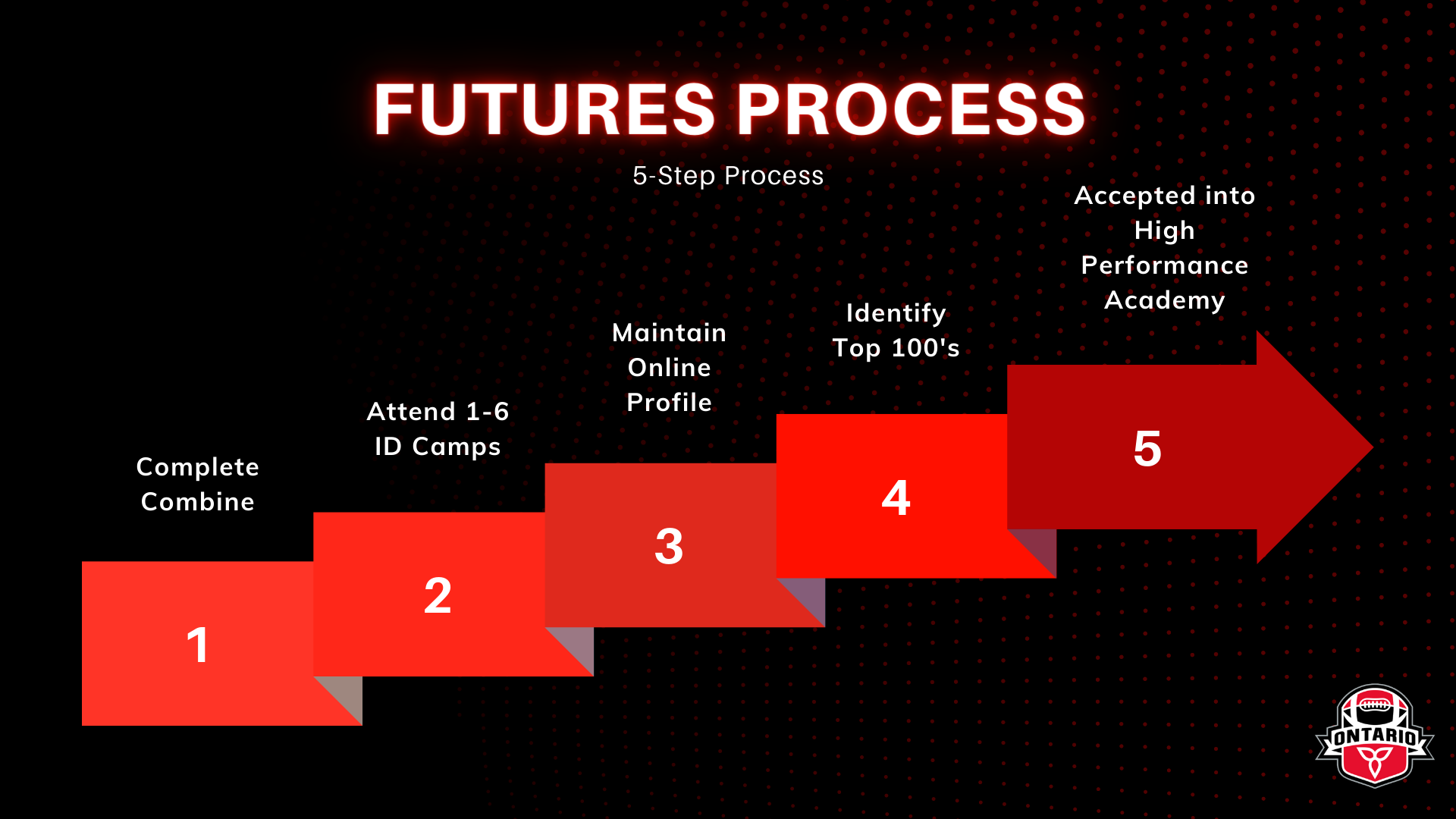 In 2024, there will be 3 in-person Football Ontario Futures and Identification Camps as well as sessions held via a virtual format.
The three in-person Futures and Identification Camps are:
There will be two price points for the Futures and Identification Camp. The base price is set at $49.99 for the opportunity to attend the camp and receive the outstanding coaching that will be on hand at each of the camps.
The second price point is $69.99 and will include Team Ontario Identification with the opportunity to be identified to move forward within the Team Ontario Program.
Purple Shift
Before participating in our football ID camps we are asking members to download and sign up for Purple Shift. We are asking athletes to input their height, weight, and vertical jump. Below is an infographic for registration. 
In-Person Futures and Identification Camps
January 13, 2024 – @ University of Waterloo Field House, Waterloo ON

200 University Ave W, Waterloo, ON N2L 3G1

U14 Male Tackle:
U16 Male Tackle:
U18 Male Tackle:

January 27, 2024 – York University, Vaughan ON

4700 Keele St, Toronto, ON M3J 1P3

U14 Male Tackle:
U16 Male Tackle:
U18 Male Tackle: 

February 17-18, 2024 – Carleton University, Ottawa ON

125 Colonel By Dr, Ottawa, ON K1S 5B6

U14 Male Tackle: 
U16 Male Tackle: 

U18 Male Tackle: 
To be considered for Team Ontario you must be registered for our virtual Futures camps. This is just the first phase of the Team Ontario selection process and roadmap. To view the entire Road Map CLICK HERE. 
If you have any questions about the upcoming tryouts, you can contact Football Ontario's Director of Sport, JT Tsui at jtsui@ontariofootball.ca.
Momentum Fundraising Powered by MoneyDolly is the Official Sponsor of Team Ontario.
Scan the QR Code below to learn more.