Football Ontario Futures is the open identification process for Ontario football players ages 12-18. The goal is to create a streamlined identification process for all athletes ages 12-18 to be evaluated that is inclusive to everybody.
Football Ontario wishes to create an entry point for player to develop into our high-performance pathways, measure specific metrics, and grant the players exposure and promotion to help further their football careers.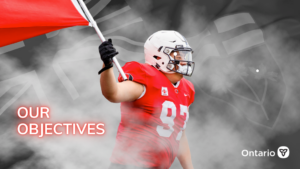 For The Program
Large Participation, Low Costs, & Execution of of the LTAD Model
For The Players
Entry point to develop them as high-performance bound players, measure metrics and give the player exposure and promotion
For Recruitment 
A smooth and simple process that allows players to be tracked and ranked easily
For The Coaches
Opportunity for community coaches to gain exposure to High Performance
DEVELOPING FUTURE ATHLETES – SIX MAIN FACTORS
Prioritizing Athlete Safety
Standardizattion and Recruitment
Creating Accessible Online Interactive Content
Introduction to High Performance for U14 Athletes
Off Season Training and Development
Tracking of Individual Performance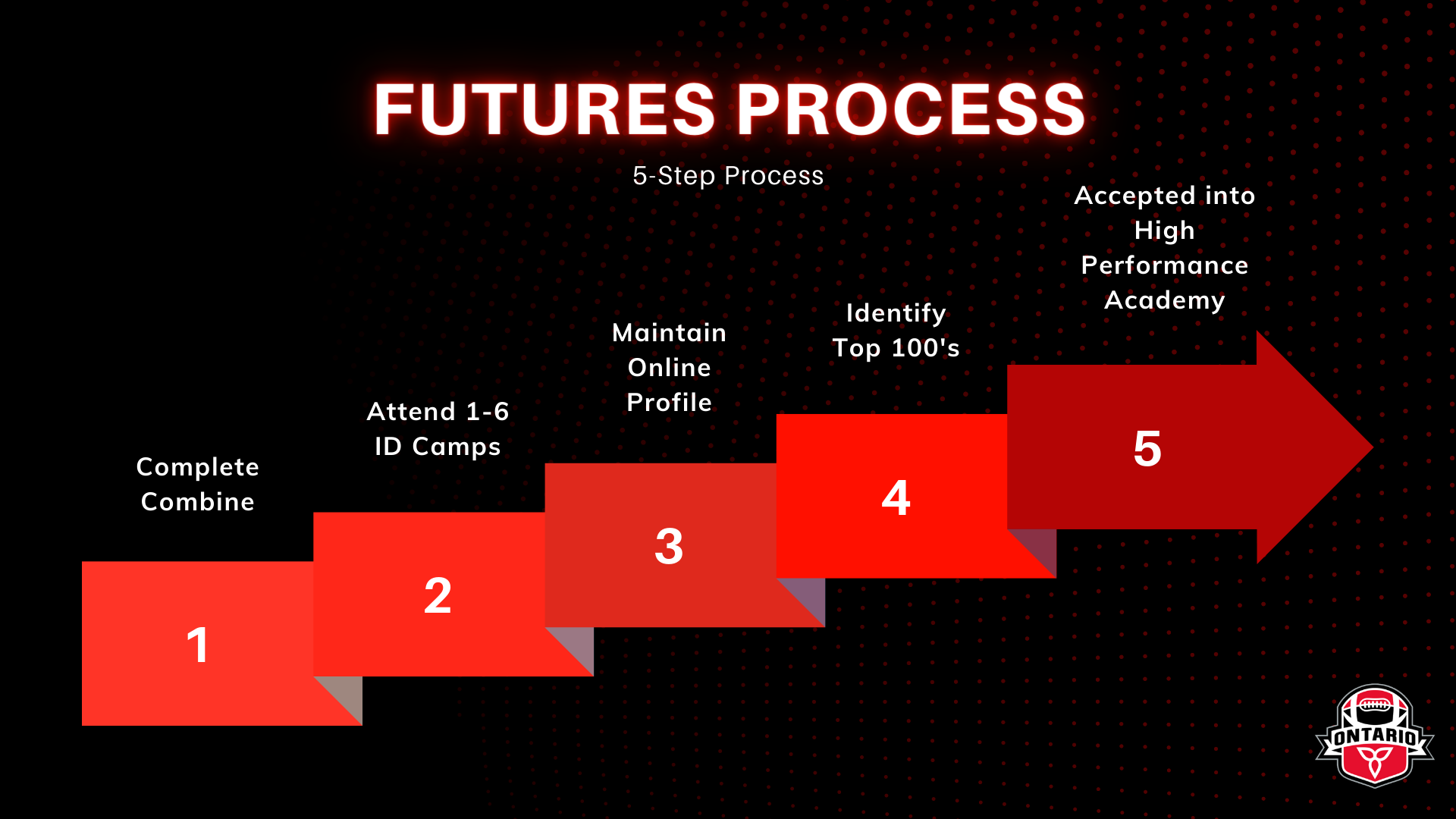 In 2022, there will be 3 in-person Football Ontario Futures and Identification Camps as well as sessions held via a virtual format with a total of four weekly sessions
The price of the camp is set at $49.99 (late fee has been waived) in addition to having a 2022 Football Ontario High Performance membership. With this one time purchase you can attend as many of the in-person and virtual sessions as you choose.
Virtual Sessions
Virtual Session 1

Introduction to High Performance
Recruitment 101
What it Means to be ALL IN
Virtual Session 2

Next Play Mentality Part 1
High Performance Strength and Conditioning
Special Teams Fundamentals Part 1
Virtual Session 3

Next Play Mentality Part 2
High Performance Football Fundamentals
Special Teams Fundamentals Part 2
Virtual Session 4

U Sports Recruitment Session
High Performance Offensive Fundamentals
High Performance Defensive Fundamentals
In-Person Male Tackle Camps
February 20, 2022 – 8am-5pm @ 1000 Island Sportsplex, Kingston ON

1485 Westbrook Road, Kingston ON, K7P 3A1

U14 Tryout: 8am-11am
U16 Tryout: 11am-2pm
U18 Tryout: 2pm-5pm

April 2, 2022 – 1Password Park, St. Thomas ON

Burwell Road, St Thomas  ON, N5P 0B6

U14 & U16 Tryout: 9am – 12pm
U18 Tryout: 4pm – 7pm


April 9, 2022 – Morning @ University of Toronto Dome, Toronto ON

299 Bloor Street West, Toronto ON, M5S 1W2

April 10, 2022 – Morning @ St. Andrew's College, Aurora ON

15800 Yonge Street, Aurora ON, L4G 3H7
To be considered for Team Ontario you must be registered for our virtual Futures camps. This is just the first phase of the Team Ontario selection process and roadmap. To view the entire Road Map CLICK HERE. 
If you have any questions about the upcoming tryouts, you can contact Football Ontario's Director of Sport, JT Tsui at jtsui@ontariofootball.ca.
REMINDER: FULL VACCINATION STATUS AND PROOF OF VACCINATION ARE REQUIRED TO PARTICIPATE IN ANY FOOTBALL CANADA SANCTIONED EVENTS. 
Momentum Fundraising Powered by MoneyDolly is the Official Sponsor of Team Ontario.
Scan the QR Code below to learn more.