Football For All
Member Benefits
As one of the largest provincial football organizations in Canada, Football Ontario is happy to serve thousands of young athletes. Our organization develops the sport of football in our province; provides a competitive pathway for athlete development; recruits and trains coaches, officials, and volunteers; conducts provincial championships; identifies and selects athletes for high performance programming; and ensures all member clubs operate within Football Canada's and the Ontario government's rules.
With so many member clubs – whether you are a player, coach, official, administrator, or just a family member…there is something that will benefit you.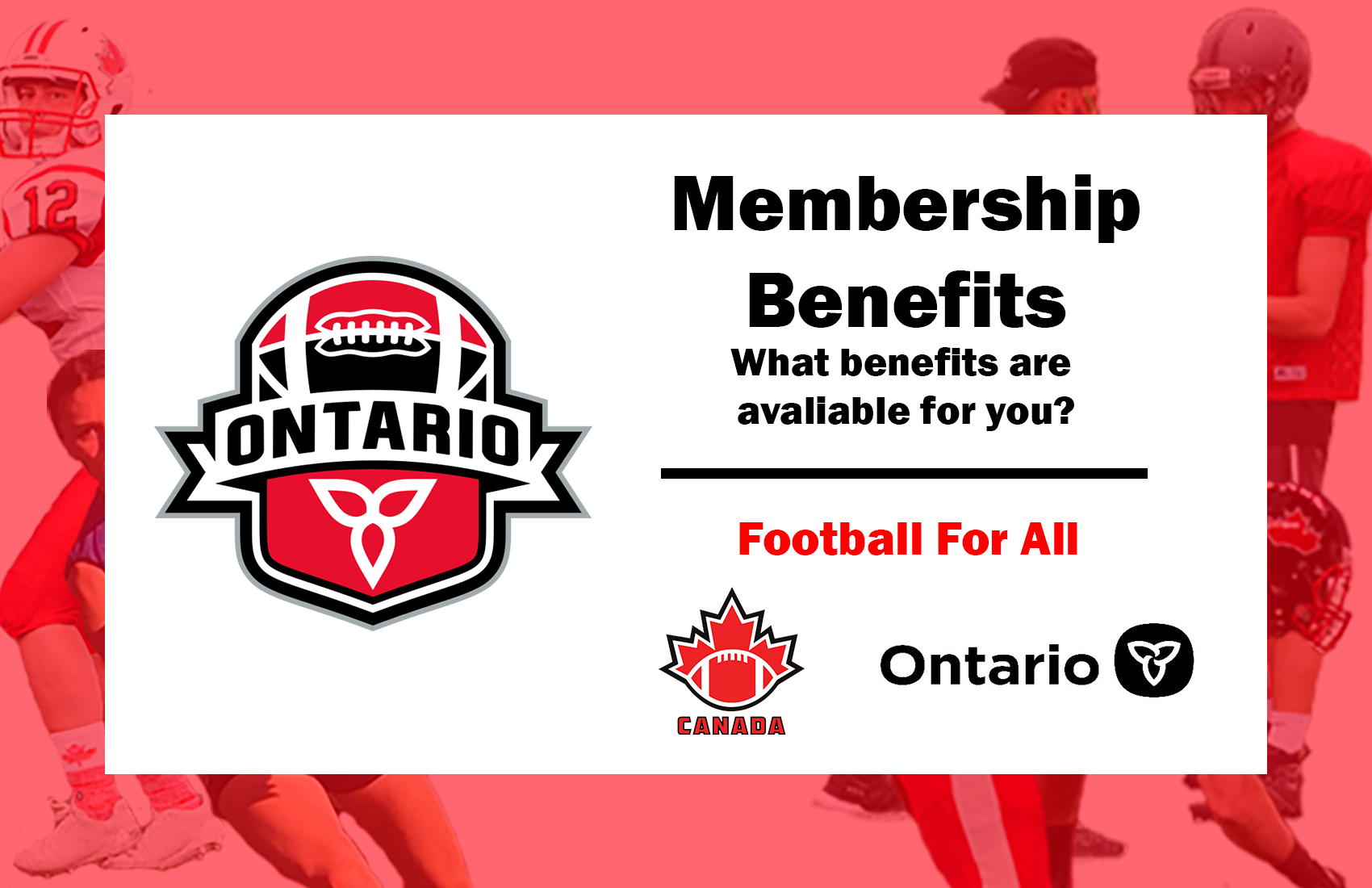 Club support
Membership to Football Ontario
Access to various provincial funding
Access to resource materials at member rates
Access to dispute resolution mechanism
Ability to vote at Football Ontario AGM
Access to our online player database
Partnerships and sponsors
Football Ontario is committed to partnerships that aim to reach the highest standards of excellence that bring the best benefits to our members.
 Area 51

Provide top quality uniform and apparel to our members

Baron Rings

Provide the highest quality of championship rings to our members

TeamLinkt

Title sponsor of the OCFL, will help grow the brand and create opportunites for the leagues to grow

WatchGameFilm

Provide our members with excellent video tools to prepare their team better

MLSE

Assists with events and camps to help grow the game

Buffalo Bills

Puts on camps for our players as well as assists with our own events
Communications and Promotions
We work hard to keep membership up to date on everything that is happening around football in Ontario
Daily social media updates to keep you updated daily
Regular press releases on our website that goes into detail on any and all major events and news
Mailing list and newsletter with relevant past and present news 
Event and League access
Football Ontario members receive unprecedented access to many leagues, programs, and events both provincially and nationally. This provides athletes with the direction to grow and develop to where they need to be. 
Ontario Community Football League (OCFFL)

 Ontario Summer Football League (OSFL)
Ontario Fall Football League (OFFL)
Ontario Community Flag Football League (OCFFL)

Football Canada Cup
Women's National Championship
CFL Futures
First Down Program
Ultimate Football 
Football Ontario Mega-Clinic
Canadian Flag Football League
Regional Challenges
Football Canada
Membership to Football Ontario also gives access to many of Football Canada's programs and services. Our partnership with Football Canada allows us to provide our members with more benefits. We are constantly working to provide our membership with the best possible programs and services
Full access to resources including safety programs and initiatives
 Ability to participate and host provincial tournaments and championships
Full insurance coverage under the Football Canada insurance policy
Access to Football Canada's grassroots programming
Access to all sponsorship and partnership benefits
Discounts with all Football Canada sponsors as well as free Elite Neuro Kinetics platform evaluation
Insurance
A small portion of registration fees goes towards insurance coverage for all:
Players
Coaches
Managers
Volunteers
Game Officials
Administrators
ClUb Development
Help clubs with guidance on administration, rule development, and long term planning
Individual club webinars on important and relevant topics
Development of inclusive programming
Development of programs for underserved groups
Support with grant writing
Technology benefits
 Football Canada's Mobile Coaching App by Athlete Era
Free for all members/participants of Football Ontario
Personalized support for both flag and tackle coaches of all experience levels
Reduced barriers for first time coaches
Aligns with Long-Term Athlete Development plan
Easily plan and share practices with your team and fellow coaches 
Officials
Our coaching development plan ensures that a comprehensive support platform for providing support to all match officials at all levels and experience.
5 Key Areas to Improve:
Education
Recruitment and Retention
Leadership/Mentorship
Administration
Talent Identification
Registration System
Easy to use registration
Chat/Email support
Affordable rates for all member associations
Coach Certification, Programming, and Resources
All coaches associated with Football Ontario have access to a wealth of resources that will elevate their standard for coaching.
Membership pricing for NCCP
Free e-learning modules through the Coaches Association of Canada and the Coaches Association of Ontario
Coaching grant opportunities for education and professional development
Evaluation and certification opportunities
Pathway to advanced diploma in coaching
Mentor/Mentee opportunities