For Immediate Release
June 24, 2022
Football Ontario Announces Final 2022 Men's Flag Team Ontario Rosters
Football Ontario Announces U16, U18, U20, and SR Team Ontario Men's Flag Rosters
Hamilton, Ontario – Football Ontario has officially unveiled the U16, U18, U20, and two SR Men's Flag Team Ontario Final Rosters that have been selected and invited to represent the province in Charlottetown, PEI for the U16 Eastern Regional, and the U18 and U20 National Championships, and Ottawa, ON for the SR CFFL National Championship.
Football Ontario is excited to unveil these final rosters after months of hard work from all of the athletes, coaches, and volunteers throughout the entire identification and evaluation process.
"The coaches, athletes and support staff have worked tirelessly over the past year in order to create a strong Male flag program. The fact that we are able to send 5 teams is a testament to the talent that can be found across the province. We are thrilled to see these teams be able to wear the trillium on their jerseys and compete for a regional and national championship." says Aaron Geisler, Executive Director of Football Ontario.
See the full roster for each team below: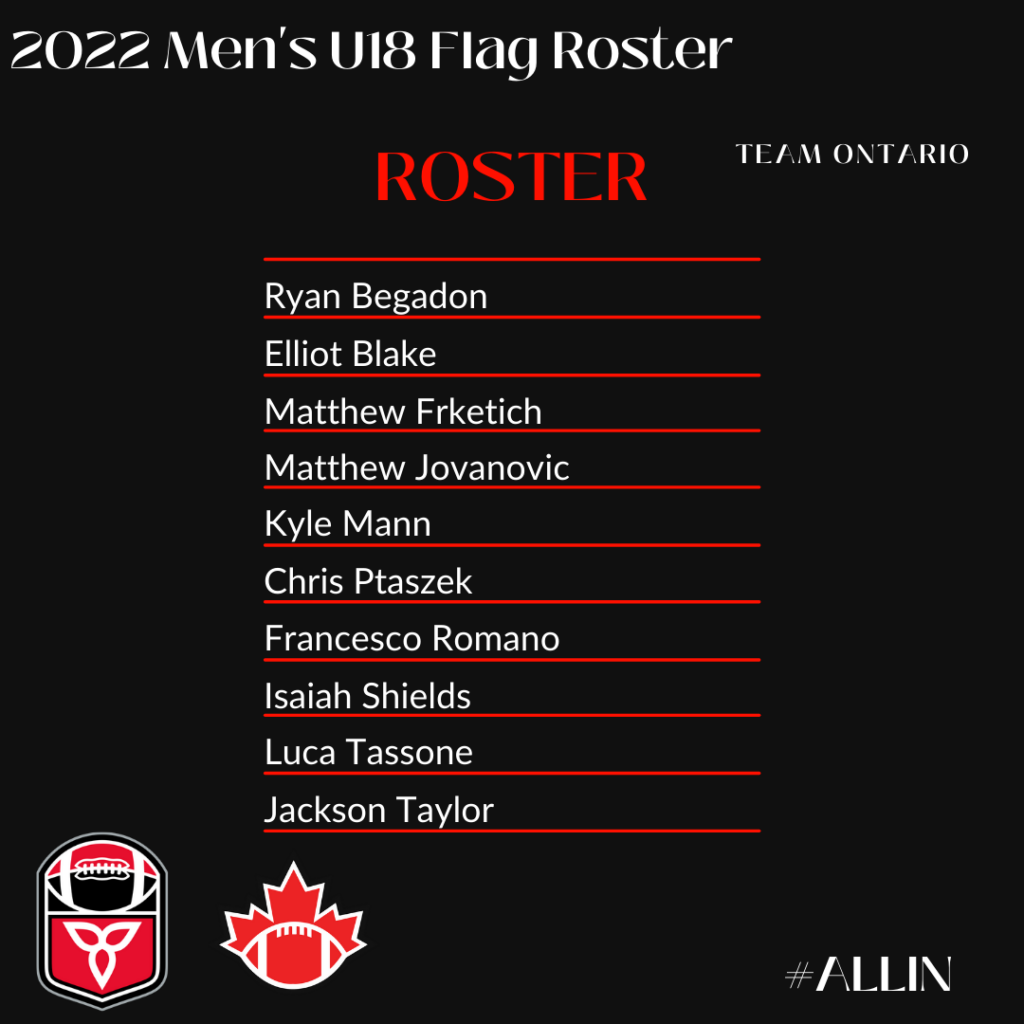 Football Ontario is thrilled to send five teams to attend the four championships in Charlottetown and Ottawa and have the opportunity to compete for the gold medal at all events.
"Over the past few months we have started to build our program. With Ontario having 2 entries in the national championships we are very excited.The Senior team is very explosive on both sides of the ball. At the provincials, they really developed a unique team chemistry. Malcolm Paul and Nathaniel Pinto will captain this squad." says Jason Hayes, HC and GM of the Team Ontario Male Flag Program. "Ontario's second SR male entry will be primarily rising stars. The group consists of players from the u20 provincial champions. We are definitely excited to see how this group operates at the highest level. Stephen Narancic and Connor Cole will lead this team."
The Football Ontario U16 Men's Flag team will take part in the Eastern Regional in Charlottetown. The Football Ontario U18 and U20 Men's Flag teams will take part in the National Championship in Charlottetown. The two Football Ontario SR Men's Flag teams will take part in the CFFL National Championship in Ottawa. For the full 2022 National Championship schedule CLICK HERE.
FOR MORE INFORMATION:
Aaron Geisler
Executive Director
ageisler@footballontario.net
519-719-2322
ABOUT FOOTBALL ONTARIO: Football Ontario is the sanctioned provincial governing body for football in Ontario, through its focus on transparency, growth, alignment and excellence, is engaged in providing football opportunities for all of Ontario. Football Ontario is driven by a commitment to deliver football programming, opportunities and resources for its members and the provincial football stakeholders. Please visit: footballontario.net