For Immediate Release
June 9, 2022
Football Ontario Announces Final 2022 U18 Women's Tackle National Championship Roster
Football Ontario Announces U18 Team Ontario Women's National Championship Roster
Hamilton, Ontario – Football Ontario has officially unveiled the U18 Women's Tackle Team Ontario Final Roster who have been selected and invited to represent the province at the inaugural National Championship in Regina this summer.
Football Ontario is excited to unveil the final U18 Women's Tackle Top 20 after months of hard work from all of the athletes, coaches, and volunteers throughout the entire identification and evaluation process.
"This U18 women's provincial team will be making history in Ontario by being the first ever all girls tackle provincial team to compete at Nationals. We are incredibly grateful to Football Canada for creating these types of opportunities and to the entire Football Ontario community for embracing this growth. We are excited to see these athletes compete and to continue to grow the program and inspire future women and girls to play football." says Aaron Geisler, Executive Director of Football Ontario.
See the full roster and breakdown below as well as the chosen reserve players: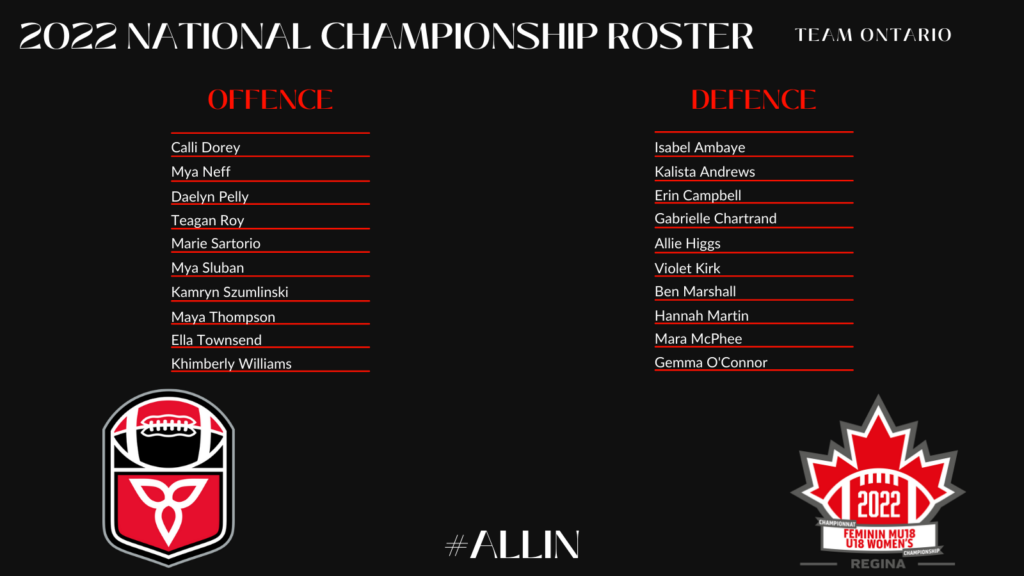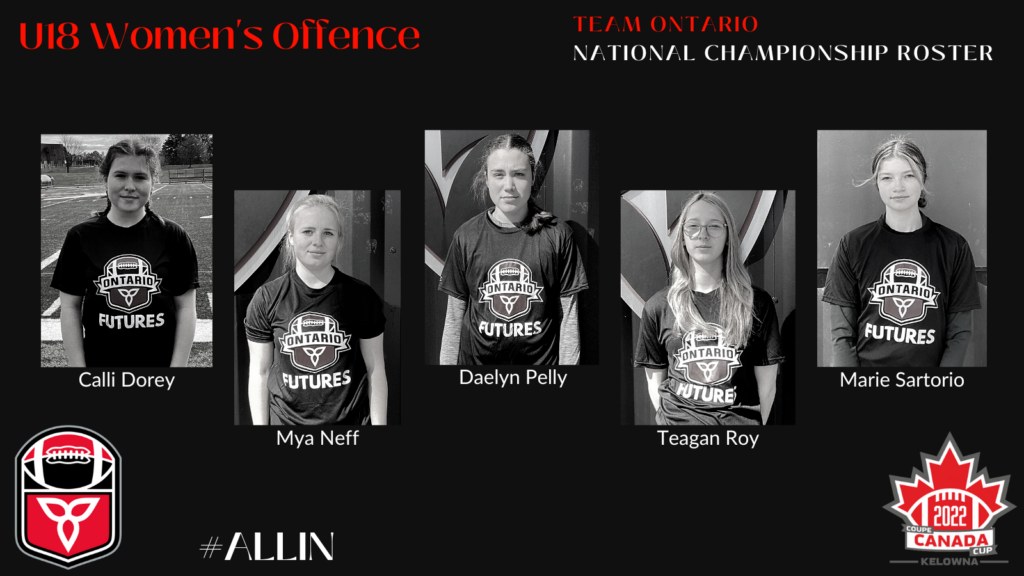 RESERVES
Melanie Bin
Mackenzie Crawley
Isabelle Hillen
MacKenzie Lagace Carrasco
Jasmine Mi
Anna Monette
Kijane Mulrain
Sophia Smerek
Football Ontario is thrilled to attend the inaugural Women's National Championship in Regina and have the opportunity to compete for the gold medal.
"I couldn't be more proud to have the opportunity to lead this amazing group of young women into the Football Canada Cup tournament, as they pioneer this much-needed new program. Ontario has proved that we can produce top-tier players and coaches with our male programs and we're excited to show the country that we're ready to do the same with our young women." says Mark Ouellet, Head Coach of the U18 Women's team.
The Football Ontario U18 Women's Tackle Top 20 will take part in the inaugural National Championship in Regina, SK. For the full 2022 National Championship schedule CLICK HERE.
FOR MORE INFORMATION:
Aaron Geisler
Executive Director
ageisler@footballontario.net
519-719-2322
ABOUT FOOTBALL ONTARIO: Football Ontario is the sanctioned provincial governing body for football in Ontario, through its focus on transparency, growth, alignment and excellence, is engaged in providing football opportunities for all of Ontario. Football Ontario is driven by a commitment to deliver football programming, opportunities and resources for its members and the provincial football stakeholders. Please visit: footballontario.net