For Immediate Release
December 13th, 2021
RTP UPDATE: Ontario Modifies Vaccine Proof System
The Ontario Government Announced a Move to Modify the Vaccine Proof System
Hamilton, Ontario – The Ontario Government, in consultation with the Chief Medical Officer of Health, announced that, due to the rising of COVID-19 cases across the province there will be modifications put into effect for the vaccine proof system province-wide.
Per the Ontario Government, effective December 20th 2021, proof of vaccination will be required for youth aged 12-17 in order to take part in organized sports at recreational facilities.
As part of the changes, Ontario is making digital or printed QR codes a mandatory part of its proof-of-vaccination system, along with the Verify Ontario app in settings where proof of vaccination is required. This means that receipts without the codes will no longer be accepted as the government deems them easily forged or falsified. This change will come into effect on January 4th 2022.
In order to obtain the enhanced vaccine certificate with the official QR code CLICK HERE.
Physician's notes will also no longer be accepted as of January 10, 2022. Any person(s) with a medical exemption will be required to retrieve a certificate with a QR code from a doctor or registered nurse who submits the patient's information directly to the local health unit.
To read more on all of the regulations set forth by the government in regards to Reopening Ontario please view THIS PAGE.
Football Ontario is awaiting further clarification from the Provincial Government on the specific details of the vaccination policy and implementation. Stay tuned to the organization's website and social media channels for any updates.
Be sure to consult with your local health authorities as well as facilities to ensure alignment with their individual guidelines.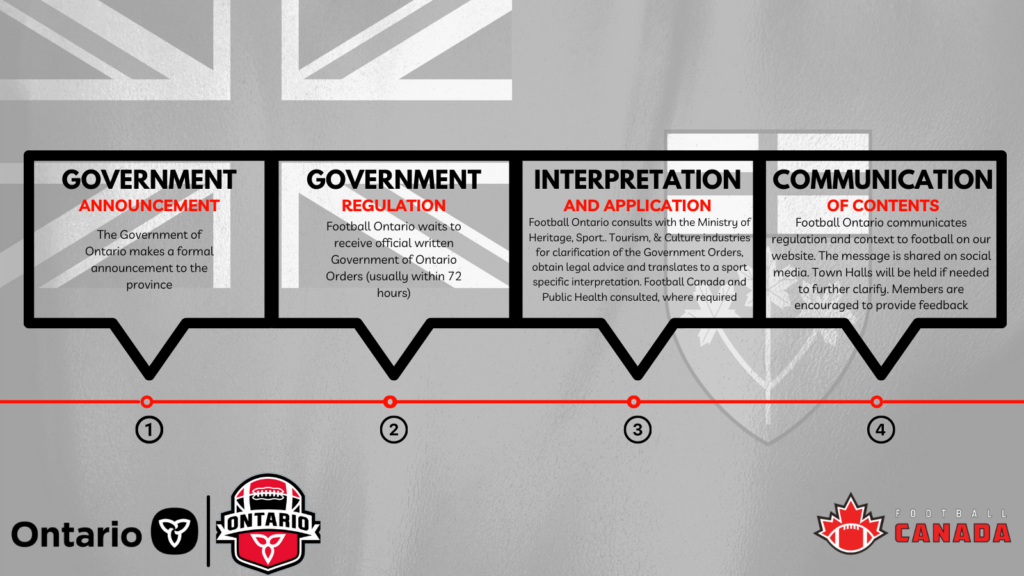 FOR MORE INFORMATION:
Aaron Geisler
Executive Director
ageisler@ontariofootball.ca
519-719-2322
ABOUT FOOTBALL ONTARIO: Football Ontario is the sanctioned provincial governing body for football in Ontario, through its focus on transparency, growth, alignment and excellence, is engaged in providing football opportunities for all of Ontario. Football Ontario is driven by a commitment to deliver football programming, opportunities and resources for its members and the provincial football stakeholders. Please visit: footballontario.net