TEAM ONTARIO FLAG FOOTBALL EMAIL SIGN-UP
Interested in being a member of the Team Ontario Flag Program or attending Team Ontario flag events to hone your skills?
Fill out the our email sign-up form in order to be notified on upcoming events or anything else of note.
You do not need to be registered with Football Ontario in order to receive the e-mails. However, in order to participate in any of the events you must be registered.
OCFFL
What is the Ontario Community Flag Football League?
The first provincial wide amateur 5-a-side and 7-a-side flag football league in Ontario providing a pathway to provincial championships for males and females from ages 10 -18+ aligned with Football Canada and the Canadian Flag Football League.
Club/Association ———-> Regionals————–> Provincials ————-> Nationals ————> Team Canada
OCFFL
Why participate in the OCFFL?
Encourage local development of flag football leagues and tournements
Engage non-traditional football athletes to the game
Provide regional and provincial championships for flag football in the province
Provide high performance selection pathways for Team Ontario: Coaches, Athletes and Officials
Pathway to National and International flag competition delivered by Football Canada and IFAF
Who can participate?
Any member association of Football Ontario can submit a team.

Any member association of Football Ontario can submit a bid to host a regional or provincial championship
Cost to Participate
OCFFL tournment cost is $100 per athlete
Benefits of Participating in the OCFFL?
Clubs/Associations
No league fees
Host regional or provincial events
Participation growth oppurtunity
Access for members to regional and provincial championship
Oppurtunity to increase fundraising
COVID-19 compliant programming
Athletes/Coaches/Official
Male and Female Pathways
Skill development for traditionally contact players
Low-cost competition that is COVID-19 compliant
New oppurtunities for non-traditionall football athletes to participate in football
​Potential cross-provincial competition
Opportunity to represent Ontario at Regional and National competitions
Oppurtunity to earn representation with Team Canada at senior level
Regionals: TBD
Provincials: TBD
Note: Dates and locations for Regional and Provincial competitions will be dependent on local, regional and provincial health restriction and compliance with COVID-19 protocols.
OCFFL Provincial Championship: Date and Location TBD
OCFFL Age Categories/Divisions
Reserve your teams spot in Regionals
Expression of Interest Team Registration: HERE
Under 12 Mixed (10-11)
Under 14 Male (12-13)
Under 14 Female (12-13)
Under 16 Male (14-15)
Under 16 Female (14-15)
Under 18 Male (16-17)
Under 18 Female (16 – 17)
Under 20 Male (18-19)
Under 20 Female (18-19)
Senior Mens 18+
Senior Womens 18+
Football Ontario is proud to announce a partnership agreement with Under Armour Flag Football Under the Lights program to help build and grow non-contact football within the province. The organization is focused on providing as many opportunities for participants as possible and realizes the untapped growth potential that is non-contact football.
Under Armour is a well-respected organization within the sporting community that believes in the community as the ultimate team. They are an organization that sets high standards, implements strong programming and strategies and aspires to drive change. These standards and values align perfectly with Football Ontario's Mission and Vision.
Under the Lights is an Under Armour Flag Football Canada program currently the fastest-growing National Youth Flag Football League and has a proven system and tools to launch, grow and scale flag football leagues at speed in local communities.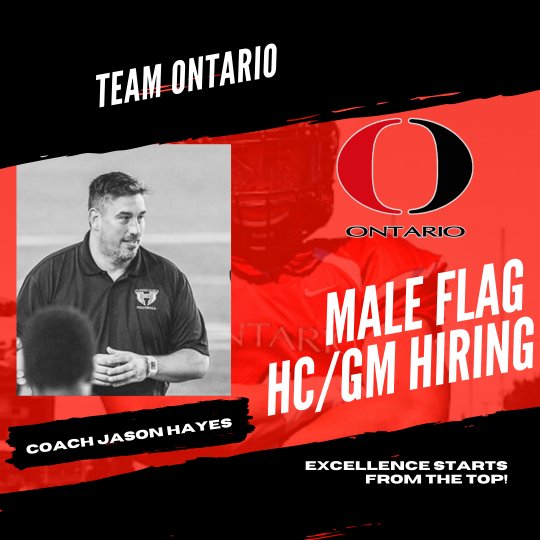 Jason Hayes has been named the new Head Coach and General Manager for the Team Ontario Male Flag Football with Football Ontario. Jason has had a lengthy career in football, both playing and coaching the sport.